Regular price
Sale price
£15.95 GBP
Unit price
per
Sale
Sold out
Altruvita 100% Multivitamin is a chewable tablet for adults to ensure you are getting 100% of all the essential vitamins that you need, every day. Each chewable multivitamin tablet contains 100% NRV (Nutrient Reference Value) of all of the 13 essential vitamins.
The chewable tablet with its unique natural strawberry flavour and aroma makes it super tasty and easy to take on the go! 

Out of 100 people surveyed…
Over 90% said that they would prefer a chewable tablet over one which needs to be swallowed whole
85% of people said it was a great tasting multivitamin
Over 80% believe it is important to have a multivitamin that has 100% of your daily needs
Share
Nutritional Information, Ingredients & Allergens

IngredientAverage per tablet% NRV*Vitamin A800µg100%Vitamin B111mg100%Vitamin B214mg100%Vitamin B316mg100%Vitamin B56mg100%Vitamin B61.4mg100%Vitamin B7 (Biotin)50µg100%Vitamin B9 (Folic Acid)200µg100%Vitamin B122.5µg100%Vitamin C80mg100%Vitamin D25µg100%Vitamin E12mg100%Vitamin K275µg100%

* NRV = Nutrient Reference Value, µg = microgram, mg = milligram

Ingredients: Bulking agents (Xylitol, Microcrystalline  Cellulose), Vitamin C (as Ascorbic Acid), Emdex, Vitamin E (as DL-Alpha-Tocopheryl Acetate), Acacia Gum, Vitamin A (as Beta Carotene), Natural Strawberry Flavouring, Vitamin B3 (as Nicotinic acid) , Vitamin B5 (as Calcium D-Pantothenate),  Anti-caking Agent (Magnesium Stearate), Vitamin K2 (as Menaquinone-7 MK7 from Soya), Citric Acid, Vitamin D2 (Ergocalciferol), Vitamin B6 (as Pyridoxine HCL), Vitamin B2 (Riboflavin), Vitamin B1 (as Thiamine HCL) , Sweetener (Sucralose), Vitamin B9 (Folic Acid), Vitamin B7 (Biotin as D-Biotin), Vitamin B12 (Methylcobalamin).
Allergen info: For allergens, see ingredients in bold (Soya).
Directions & Dosage

Directions for use: Adults should take 1 tablet daily, preferably at mealtime or as directed by your healthcare professional. Do not exceed stated dose.

Altruvita 100% Multivitamin is not a medicine and does not replace the need to eat a varied and balanced diet, or reduce the need for exercise as part of a healthy lifestyle.
If you are on medication, pregnant, breast-feeding or have a medical condition, please consult your medical practitioner before taking this product.
Not recommended for children under the age of 18 years. Keep out of reach of children.
Do not use if the seal is broken or if packaging is damaged in any way.
View full details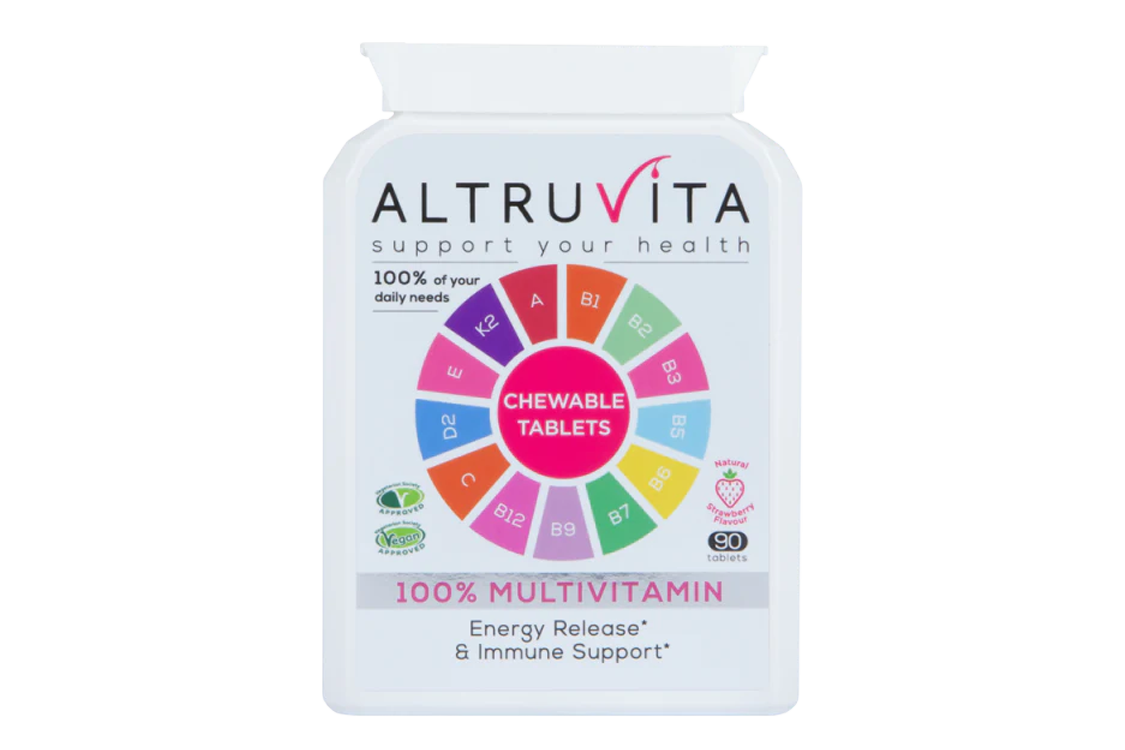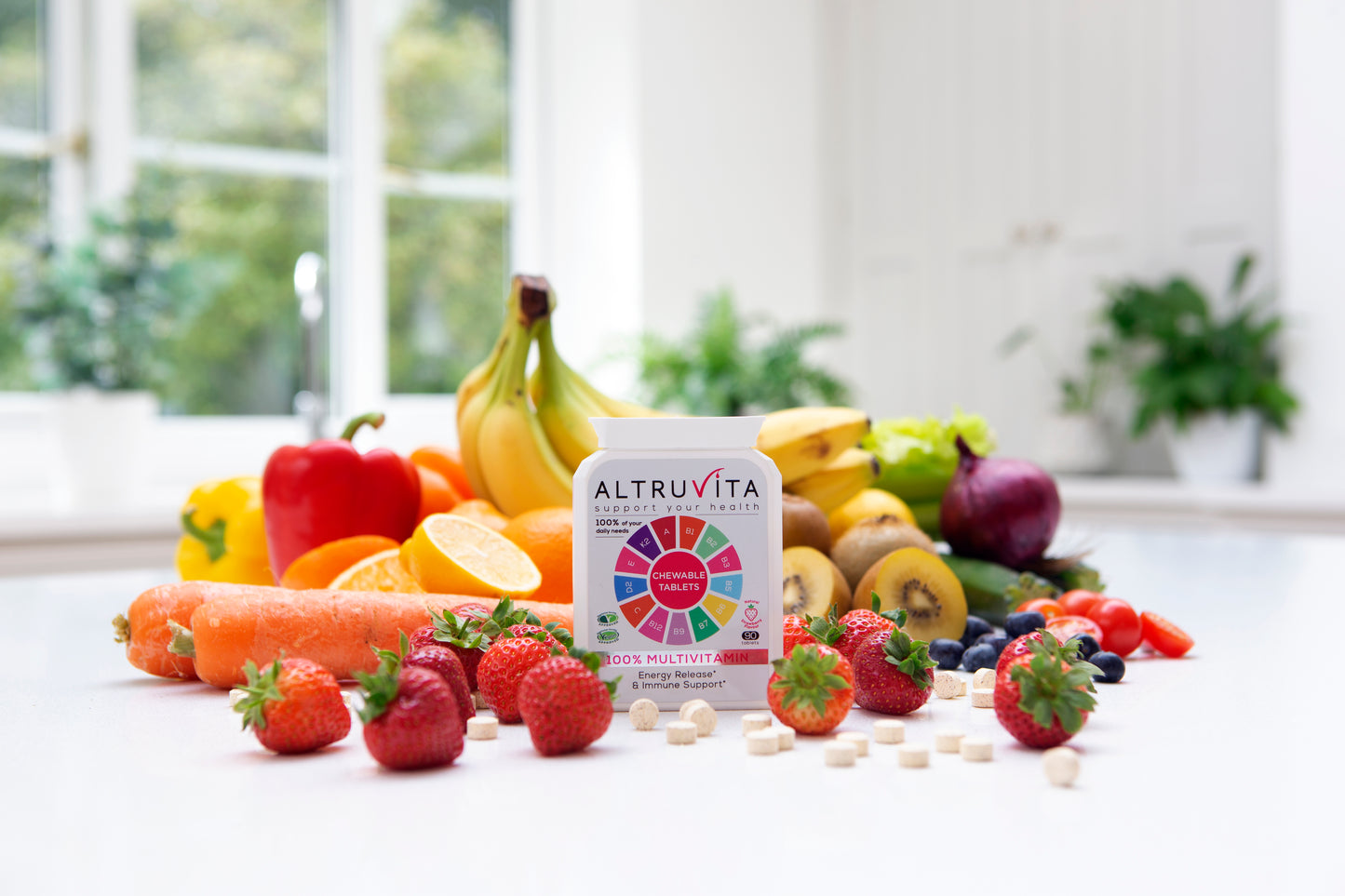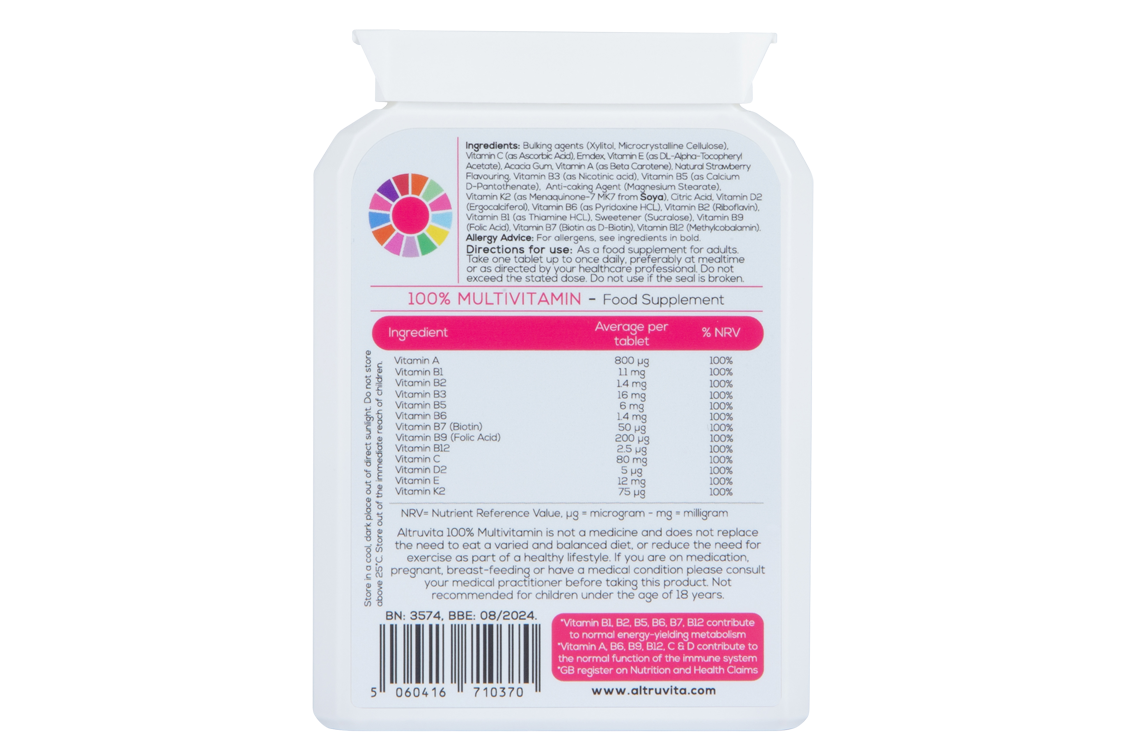 Why take a 100% Multivitamin?
According to a UK Government study§, only 54.8% of adults aged 16 and over consume the recommended 5 fruit and vegetables per day. This means that the body isn't getting everything it needs. Taking a multivitamin can help to fill the nutrient gaps for under consumed vitamins.
Our 100% Multivitamin contains precisely 100% of your NRV for all 13 essential vitamins. This means you can be sure that you are getting all of the vitamins your body needs.

Some other brands of multivitamin may include a higher percentage of your NRV, however this can lead to health problems. Making sure that you are not taking too much of one vitamin is important for your health.

Unlike other brands, our multivitamin is a chewable tablet so it is easy to take on the go, and with its natural strawberry flavour and aroma, its pleasant to take as well!

Our multivitamins are also approved by the Vegetarian Society and suitable for people following a vegetarian or vegan diet.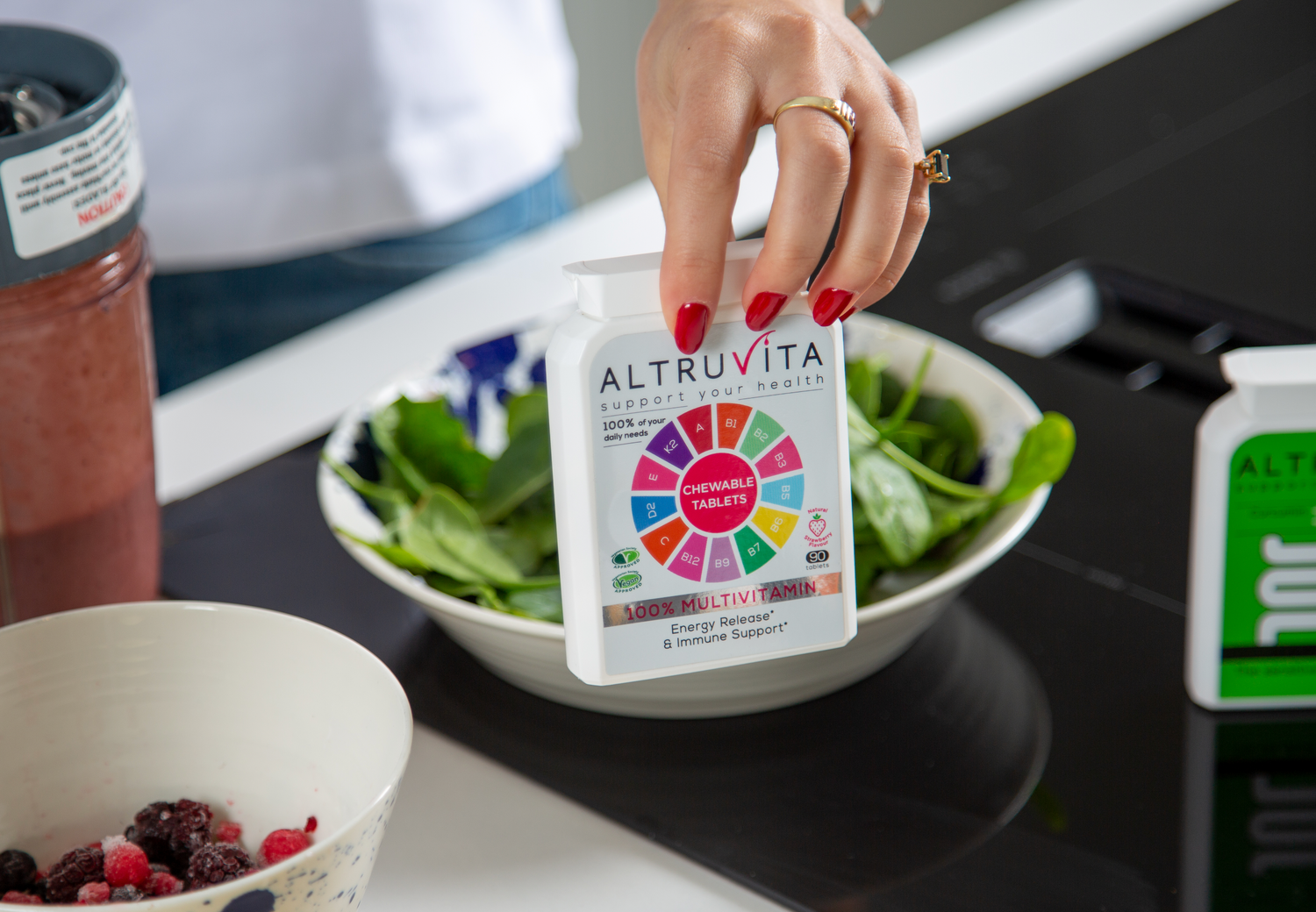 Out of 100 people surveyed…
Over 90% said that they would prefer a chewable tablet over one which needs to be swallowed whole
85% of people said it was a great tasting multivitamin
Over 80% believe it is important to have a multivitamin that has 100% of your daily needs